From the Heritage Premier Feature series, we are excited to announce that we have obtained new lots in the Lakeway community of Serene Hills. Residents of this prestigious community enjoy the comfort and accessibility that the area offers. With easy access to Highway 71 and RR620, you'll be located only 30 minutes from downtown Austin.
Located a short distance away, you'll also find the Hill Country Galleria for all your shopping needs. This sophisticated outdoor shopping space is perfect to spend the day browsing the brand-name stores, stopping in at local restaurants, or heading to the movies.
Of course, the area is surrounded by the stunning Lake Travis, and a private greenbelt. Here you'll find extensive hiking and biking trails.
And, for parents, we must mention Lake Travis ISD. The Independent School District with top-notch teachers, facilities, and learning-atmosphere that your children will adore.
Now, there are more opportunities than ever for you to build your dream home from the ground up, on a lot that you hand-picked in the neighborhood. In addition to our new lots, Sitterle Homes has introduced 5 brand new floor plans and 1 modified floorplan to the community: Chinon, Portofino, Orvieto, Santa Barbara, and Cremona and Calais.
Just like with all of our builds, we promise to deliver high-end finishes and unexpectedly gorgeous details, and these do not disappoint.
 Chinon – Elevation A
Perfect for a growing family or empty nesters looking to start their next chapter the Chinon is a stunning design surrounded by nature. Offering 3 elevations, and overlooking the Texas Hill Country, you'll find serenity not only in the area, but in the smartly designed layout. It boasts 3 bedrooms, 3.5 bathrooms, a 2-car garage and 2,635 square feet of living space.
Plus, with features such as mirrors to the ceiling and a freestanding tub in the Master Bathroom, you'll find it easy to relax both inside and out.
Portofino – Elevation A
Available in 3 elevations, the Portofino design, is ideal for those looking to right-size. The plan boasts nearly 3,000 square feet of living space 4 bedrooms, 4 luxuriously designed bathrooms, a 2-car garage and added specialty features.
Perfect for families – the whisper-quiet drawers, generous natural light from the windows, and large outdoor living space is nothing short of perfect.
Orvieto – Elevation A
Available in more contemporary or modern elevations, the Orvieto floor plan is luxury at its finest. With over 3,000 square feet of living space (3,014sqft), 3 and a half baths, and a 2-car garage you'll feel pampered every time you enter the door.
The home is not only surrounded by the natural beauty of Lake Travis, but features a playroom, large open-concept kitchen/dining area, study and generous walk in closets.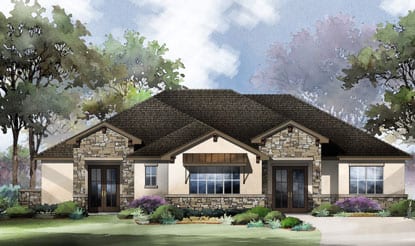 Santa Barbara – Elevation A
Pure luxury is what this design is all about. With 4 bedrooms, 4 bathrooms, a 3-car garage and 3,094 square feet, there is no shortage of space offered throughout this home. Boasting plenty of outdoor space, you can easily enjoy time with the family on one of it's patios, covered porch or courtyard – making this home ideal for nature lovers and larger families.
With its dramatic roof lines, an iron front door (for an added hint of charm), charming casita, and large covered outdoor spaces – this home is perfect for enjoying nature with the family. 
Cremona – Elevation A
Find yourself surrounded by luxury, inside and out, with The Cremona design. With its 4 bedrooms, 4.5 bathrooms, a 2-car garage, walk -in closets, playroom, and study – you'll feel right at home the moment you step in the door.
Additionally, its hardwood floors, volume ceiling, whisper-quiet drawers (on all kitchen cabinets), stainless-steel chimney hood, and energy-efficient feature truly elevate its luxurious feel.
Updated Calais Plans
Calais – Elevation D
You'll also find a new and improved Calais floor plan- one of the most popular plans in the neighborhood.
We've enhanced the 'flow' and modernized the layout of the Calais and have introduced two new contemporary elevations. Our new model home of the Calais plan will be complete this fall, but you can get a feel for the plan by visiting our current model at 406 Ringtail Stream.
The Advantage
All home designs are available on 80' or 100' lots. Specializing in quality, consistency, and specialty builds; we don't skimp on comfort. Everything from the home's design to the interior selections, and the community atmosphere is taken into consideration. This means you'll be getting a mix of style, functionality, and exceptional design throughout. After all, we understand it's the subtle things that make a house a home.
At Sitterle Homes, we pride ourselves in knowing what a good home is and what a good move means. That's because we've been building luxurious homes for over 55+ years in the Central Texas area.
See for Yourself
We encourage you to come and see it for yourself!  By visiting us, you can get a sense of the luxury, class, and ease that choosing to live in Serene Hills gives. You can also inquire or discuss with one of our New Home Consultants any personalization or features you may want to add.
The model home is planned to be ready for you to attend in the Fall of 2020, located at 606 Sweet Grass Lane. In the meantime, visit us at 406 Ringtail Stream to see what's new.
Come see what's new in Serene Hills- where luxury lives!